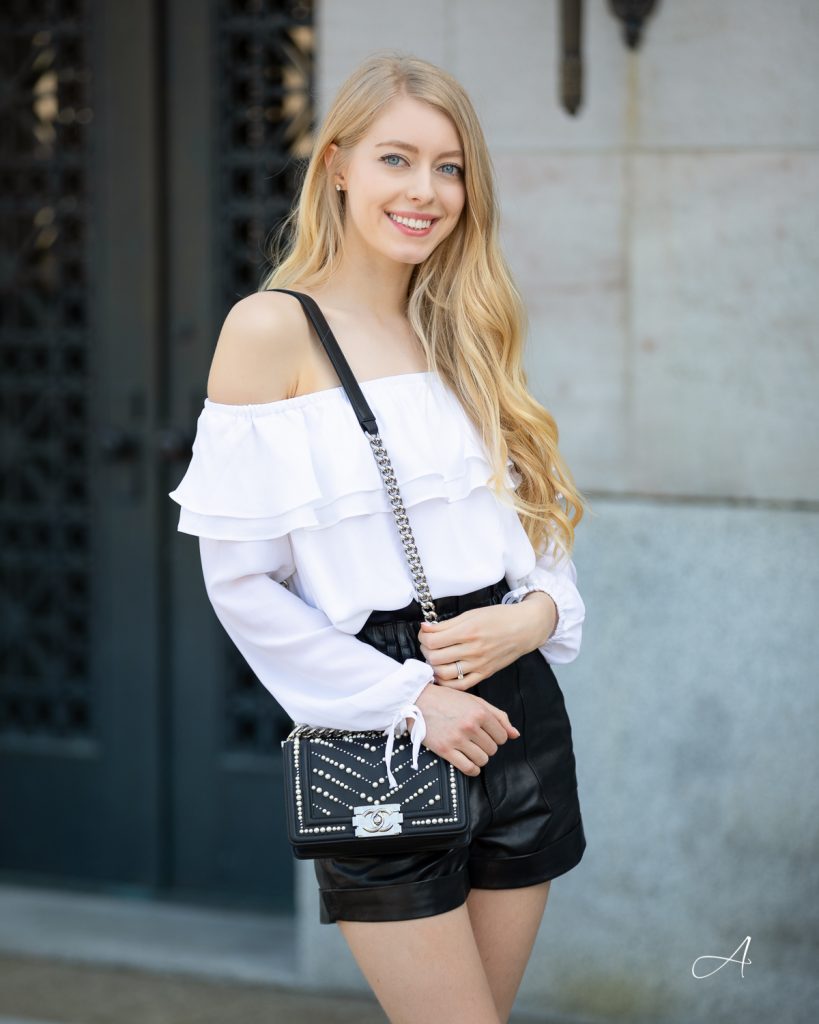 If you thought that leather is only reserved for the winters, think again. You can totally rock this luxurious fabric during the warmer months with the right styling. 
You must be thinking 80 degrees out and fabric like leather? Not a match made in heaven. But you could make it work if that leather is in summer-friendly form just like these shorts that I happily and conveniently carried on a warm day. The key to wearing leather in summer is having it cover less area and pairing it with light colors that won't absorb heat. That's why I went with these super comfortable black leather shorts and a white off-shoulder ruffle top.
I am a long-standing leather lover. Especially when it comes to bottoms. Leather pants. Leather skirts. Leather shorts. I love them all. I love having fun with this fabric synonymous with strength and self-confidence. These genuine leather shorts are perfect for wearing even when the temperature is on the higher side. 
Since they are genuine leather shorts, they are slightly on the pricier side. If you want the cool rebellious look without breaking the bank, you can always go for faux leather. In stark contrast to my much-loved leather pants, these leather shorts have quite a relaxed fit and don't cling to my thighs. This allows my skin to breathe and also makes moving around easy. Besides, would you look at how ridiculously cool they are? Plus, they've got pockets!! Leather and pockets. These two features were enough for me to grab these shorts ASAP. 
I paired them with this lovely white off-shoulder top with ruffles. This didn't just create a nice black and white contrast but also a perfect balance between dark and light colors. Black sure absorbs heat but the white doesn't, helping me stay cool. The layered ruffles of the top are also super cute and so are the elastic cuffs on slightly puffed sleeves. 
To give this outfit its cherry on top, I went with a Chanel Pearl Boy Bag. I love Chanel flap bags but this one is my top favorite Chanel bag. It's super chic and made out of calfskin leather in black. What I love the most about it is the beautiful pearl beads arranged in a chevron pattern on the front flap. It also features a silver CC push lock and silver chain-link shoulder strap. You will definitely see it making more appearances on my blog.
So would you be giving leather a chance this summer?