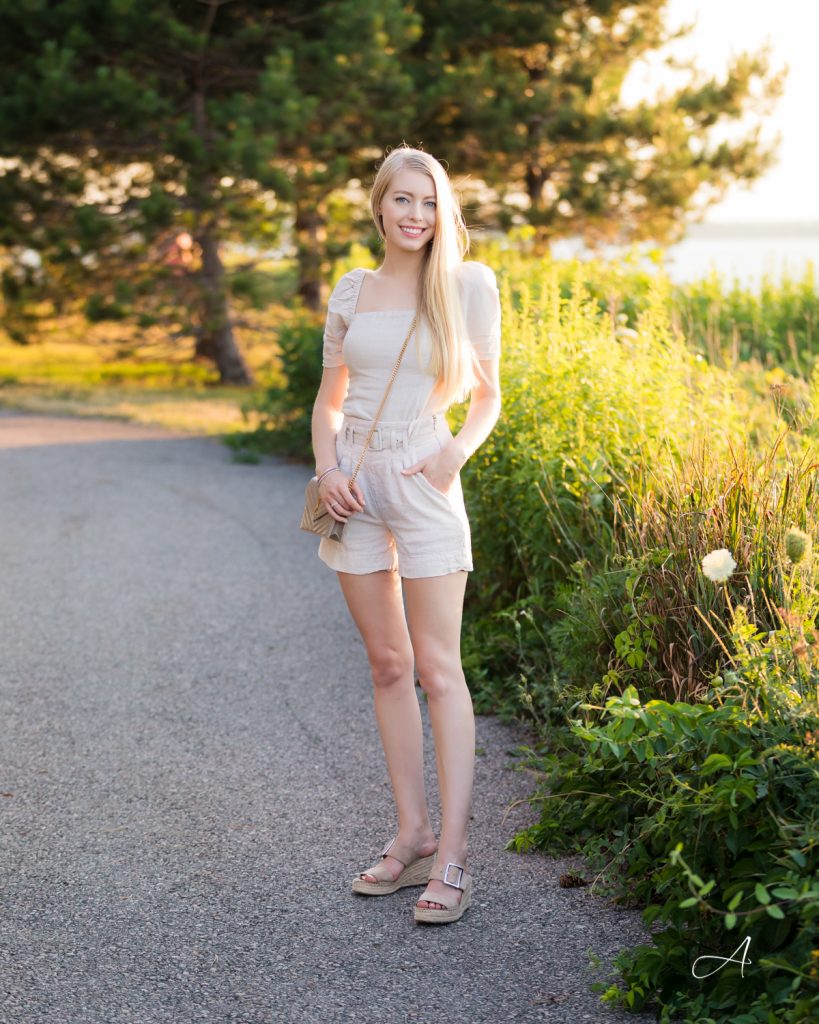 Summer is here, and I am excited, to say the least! Thanks to the sunny weather, I finally get to wear my skirts, dresses, shorts, and beloved rompers. Interestingly, whenever I want to go out in nature and clear my head, this particular linen romper set comes to mind.
Made of linen fabric, this outfit is light and comfortable, making it good for summer. Another thing I love about this linen romper top and shorts combo is that I can wear it as a matching set or as separates. I can't stress enough how much flexibility that gives me. The neutral colors match with so many different looks.
I particularly like that the top has some cool puff shoulders that give it character and authority. Its square neckline also throws out some serious Renaissance-era vibes; not revealing too much but giving just enough a glimpse of my collar bone. Coupled with my side-swept hair, this is a match made in heaven.
When it comes to the shorts, I like that they are high waisted and have a belt to mark where I tuck the top in. While not loud and obvious, this belt subtly brings attention to my waistline and flatters my silhouette. Also, I appreciate that these shorts have pockets. I mean, who doesn't like pockets?
Ultimately, this linen romper set frames my body, almost giving off a kind of short flare dress vibe. To accessorize this look I decided to go with wedge sandals and a YSL small envelope bag. First of all, the sandals are comfortable and have an ease and casualness to them. In short, they don't steal the show but add to it!
They are peep-toes with big buckles on the side; a huge homage to the 90's I would say. On the other hand, the YSL small envelope bag is all things classy and chic. Made in Italy of 100% calfskin leather, its golden strap goes perfectly with the light soft tones of the linen romper. It's a little but durable bag that fits the essentials.
What's more? It seems to even look better in the sun, making it a perfect option for fun outdoor activities. It undoubtedly gives the look a clean elegant finish!
I wear size xxs in the shorts and XS in the top. It has a stretchy back to making dressing easier and the shorts have a zip at the side. For more summer look ideas check out my posts HERE.