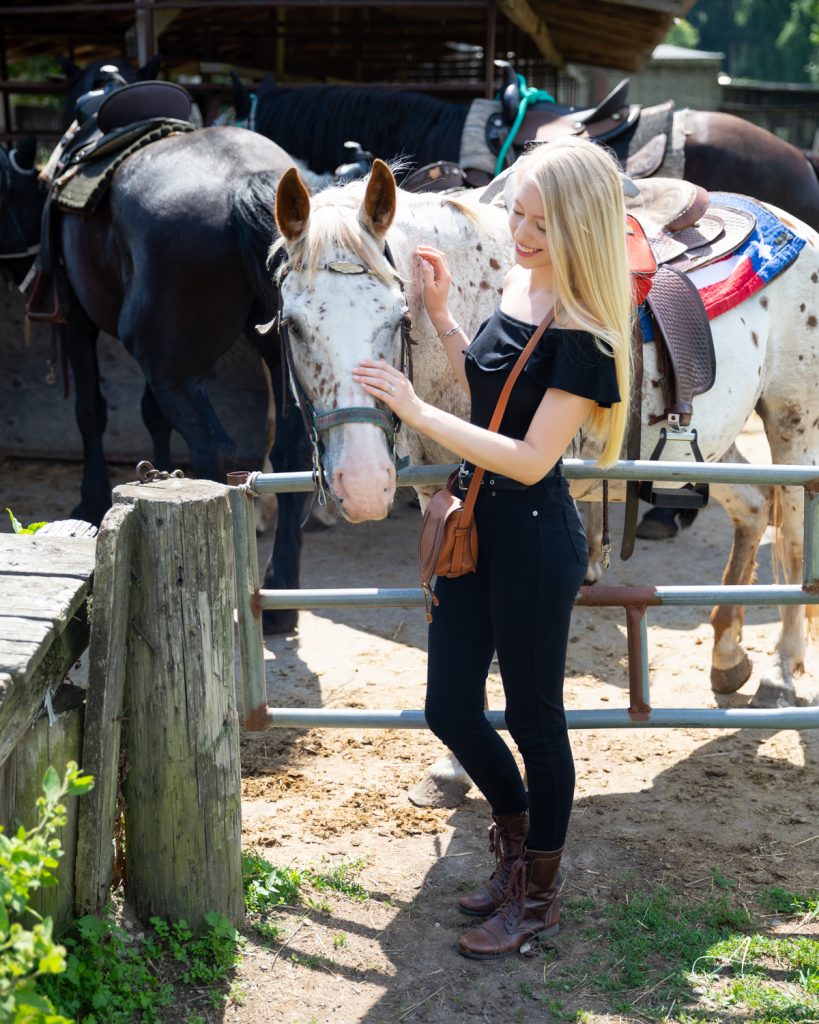 A horse ranch is where summer fun comes alive, especially for those of us with an equestrian spirit and a little adventure in our bones. Bobby's Ranch in Massachusetts is particularly amazing for a good old time in the saddle. The trails are gorgeous. The horses are also gentle, friendly, and very well-trained. While this activity guarantees fun, you can't have your outfit lodging in the bushes or your boots slipping through the stirrups. So, what to wear to a horse ranch?
I love dark, solid colors. But that wasn't the only reason I went for an all-black outfit for my trip to Bobby's Ranch. As you'd imagine, horseback riding means not only getting a little dirt on your boots but also your clothes. I chose black pants and a black off-the-shoulder top so that the dirt from the horse and the trail doesn't show too much. It's also important that the pair of pants you choose is stretchy and allows you to move around comfortably. Stretchy pants will also prevent chafing.
Another thing that I made sure while putting together my outfit for the ranch was to go for long pants. They protect you against the pesky bugs usually found on the trails. As you can notice, my pants were also comfortably snug. But why is that important? A snug fit ensures that your pants don't ride up your calves which if happens is not quite flattering if you ask me and also puts you at a risk for insect bites.
So, if you are confused about what to wear to a horse ranch, it's best to go for clothes that are darker in color, not too baggy, and preferably include long pants. As for the footwear, riding boots are absolutely important and I cannot stress this enough. They give you maximum security during horseback riding. Their short heel ensures that your foot stays nicely hooked in the stirrup and doesn't slip through. The soles are also usually flat and smooth, so your boot doesn't get stuck in case of a fall. I paired my outfit with comfy leather riding boots that went a little over my pants.
To complete my look, I went with a brown cross-body bag that held a few important things I needed to carry. A cross-body bag allows you to be hands-free as you fully focus on having fun. While my clothes were fit for a horseback riding adventure in terms of functionality, I'd like to think that my accessories represented my inner cowgirl spirit.
Also, don't forget to double up on sunscreen. Last but not least, stash a few hair ties in your bag. Style is important but so is your sanity when your hair is sticking to your face in the summer heat. Luckily, I made all the right choices and had a pleasant experience riding the gentlest horse.
Now that you know what to wear to a horse ranch, I hope you'd tick all the right boxes too.
Interesting in more cute yet functional looks? Check out all my travel blogs HERE.