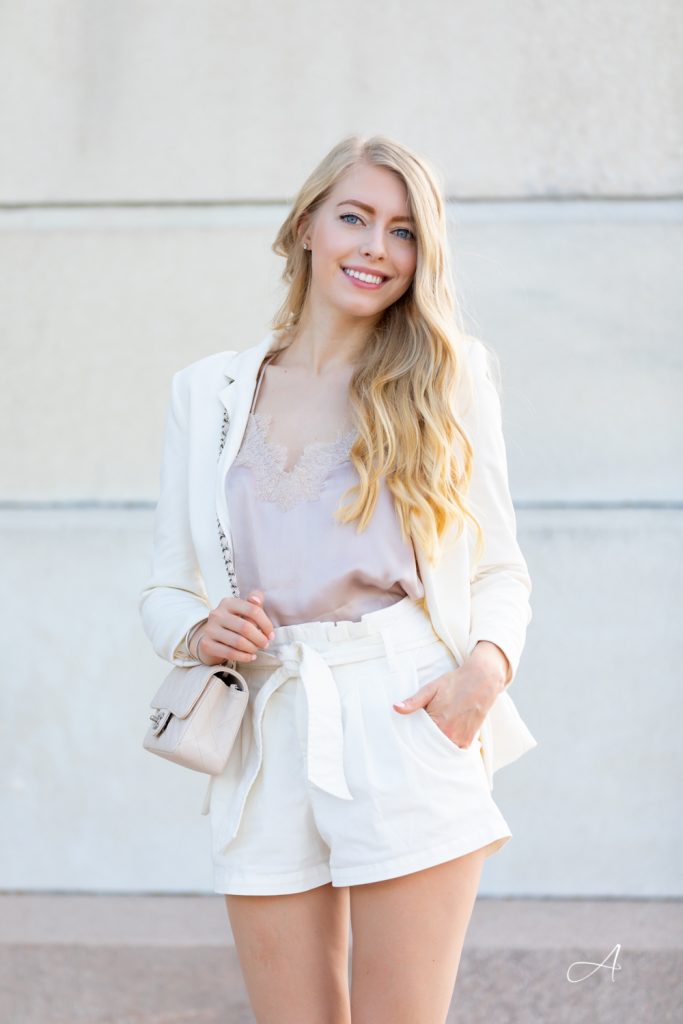 While most of us find the blazer and shorts look really cute, many feel like it can be tricky to style. So we end up admiring others' versions of this classic look without ever trying it out ourselves. Well, I recently decided to go for it and gathered some insights on how to look stunning and sophisticated in this modern look.
In my case, I paired white shorts with a white blazer and wore a simple silk cami underneath. While I did not purchase these clothes as a set, they're easy to style together and even look like they match.
I like that these shorts have a belt to mark my waist and give them that extra oomph. This detail makes them go perfectly with the cami, creating a uniformity that I didn't expect. The pockets are a good touch too. As for the blazer, I love the casual simplicity it exudes. It is one of those pieces that can upgrade almost any outfit.
Honestly, you could easily pair it with a different pair of shorts, a dress, a pair of pants, or even a top and skirt combo. It always pays to have a few versatile statement pieces like this one in your closet.
When it comes to styling this particular look, it is very important to buy a well-fitting blazer and shorts. If they are too baggy, you usually end up looking frumpy. On the other hand, if they are too tight, you look crammed. Also, the shorts should be longer than the blazer. My favorite place to look for blazers is H&M because they have many affordable yet quality choices.  
What can I say? When it comes to the blazer with shorts look, the secret is all in the fitting and proportions. Get them wrong and you're done for. For this look, I accessorized with a cute little bag and classic white pumps. Coupled with my side-swept hair, this ensemble looks professional and polished.
See another way I styled a look with these shorts HERE and HERE.