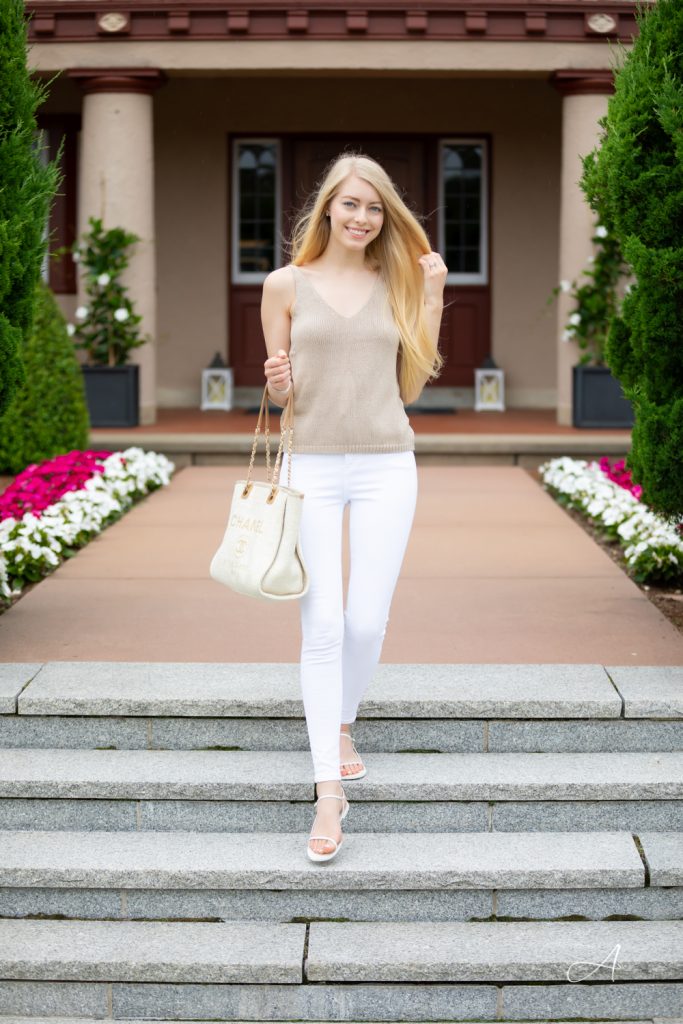 We all need at least one killer look that is easy to style and casual. For me, it is this knit tank and white jeans combo. It is easy to put together and is good enough for a variety of occasions. Given that it is summer, I wouldn't want to wear anything bulky, hence the knit tank. It is also very soft and flowy; always good qualities to have.
I love the V-neck of this knit tank. It makes my neck look a little bit longer and allows me to subtly expose a little bit of skin. I also like that it drapes well and ends just above my hip, creating a more casual look.
Since white is a pretty neutral color, I was sure it would go well with this knit tank. Also, with all the summer heat, I was surely not willing to wear a dark color. I mean, it is one thing to wear black shorts in the summer, but black pants, that is a whole other ball game. There is no need to feel even more hot.
I also like how bright white is; it seems to exude some joy and preppiness. Keeping with my color scheme, I decided to go with white sandals, a good choice for a fun casual day out. To top it all off, I carried this Chanel small Deauville bag with me. It was just the touch of sophistication I was looking for yet fits a good amount of stuff. I feel like it's the perfect size on me without being overwhelming.
This bag's color is like an odd mix of my knit tank's tan and my jeans' white; a very light tan I would say. As such, it went well with the outfit. Honestly, this outfit perfectly embodies the summer outdoorsy vibe and would be a cute look idea for a resort vacation or weekend getaway! For more summer looks click HERE.