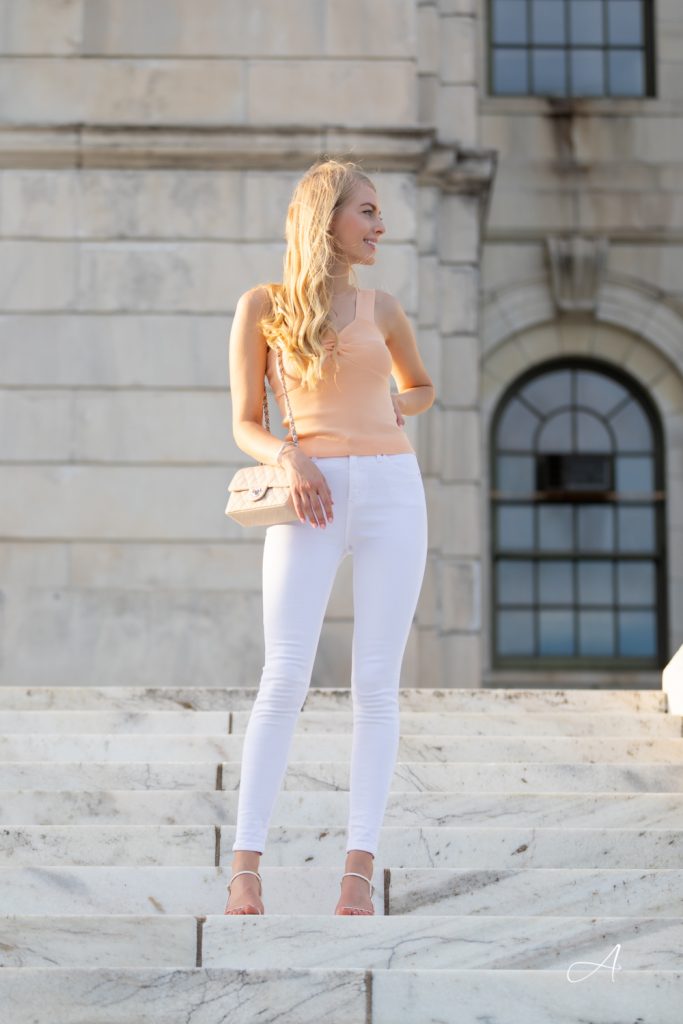 I love the chic retro indie vibes that Chicwish clothes seem to exude. They are definitely unique and have character. Naturally, I shop from them frequently. In fact, just recently I got this peach sweetheart top from them and it is part of their newest collection.
Not only is its color extremely feminine, but it greatly compliments my complexion.
I also like that this top has a beautiful neckline with knot detail in the front. This top is literally the embodiment of romance and elegance.
I find it interesting how it hugs my frame without necessarily being tight. Also, I noticed this top is slightly cropped so I recommend wearing it with high waisted jeans. In my case, I wore it with white ones to keep that light summer vibe going on. I accessorized with white high heeled sandals and my Chanel mini in a similar color.
While I chose not to include a blazer or cardigan with this outfit, it would look good with either. This top would also look very cute with a flowy skirt. If you tucked it into the skirt and wore a statement belt, it could even look like you're wearing a dress.
Alternatively, you could mix things up and pair it with a blazer and a pencil skirt for a more professional look. Now that I think about it, I even see how this peach sweetheart could be paired with a pair of shorts.
Ultimately, it goes well with a variety of outfits and accessories, making it an asset for any closet. Apart from white, this peach sweetheart top could also go well with a variety of other neutral and earthy colors. I love that this top gives a subtle pop of color in contract with the white jeans. Check out another look I shared from Chicwish HERE. Let me know what you think of this look in the comments below!