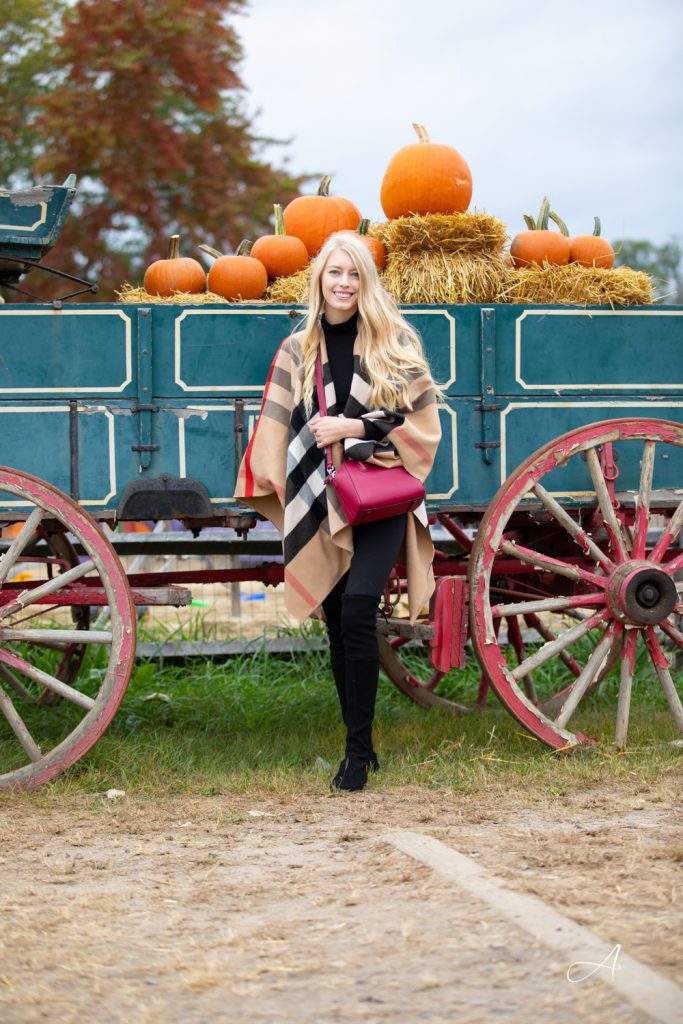 One of the most exciting activities to welcome fall is pumpkin picking. It's something that I religiously partake in every season to bring home the best pumpkins and transform them into pumpkin pie or muffins. Now that the fall season is in full swing, it was time for my mandatory visit to the pumpkin patch. But what to wear when you're heading towards one? Allow me to whip a warm and fuzzy look out of my fall wardrobe that will see you through not only the pumpkin patch but the whole season.
When it comes to fall fashion, there's no such as too many layering options. Layering is a sure short way to looking cute and keeping cozy. The only trick you need to learn while layering is to stop when you start looking like an overstuffed penguin. I am a fan of layered ensembles but I was saving my treasured Burberry poncho for a particularly chilly day which happened to be the day of pumpkin picking. Let me begin by saying how obsessed I am with Burberry (after my first love Chanel, of course). Nothing holds a candle to their classic trench coats but this trailblazing (cape, jacket, blanket, poncho?) poncho is a real treat to the eyes and to the body. Made with the warmest wool, it keeps you snug as a bug in a rug. Too much? Quite on the contrary.
In terms of the looks, the iconic check patterns against the beige look elegant as ever. It makes you look like the queen of sophistication. It's fashionable and functional. It's absolutely the best layering option you can have this fall. I paired the Burberry poncho with a light turtleneck and leggings. Since the poncho itself is so warm, I didn't want my top to be extra thick.
The second star of this fall outfit is the pair of Stuart Weitzman lowland over-the-knee boots. They are super warm for chilly weather and the easy-to-wear flat block heels are comfortable enough for a day full of walking. Their streamlined silhouette and sleek finish nicely balance the fluffy look of Burberry poncho. Also, their stretchy suede material gives a flawless fit. It's safe to say that head over heels in love with them.  
To add a pop of color to my black and beige look, I went with the Givenchy Antigona Mini Leather Bag in pink color. It's cute, classy, and catches the eye from afar. It's a delightful trapezoid-shaped handbag with a triangular Givenchy patch, an oversized zipper, and golden details. The adjustable and removable shoulder straps make it easy for you to carry it however you want. No matter how much I love the way a bag looks, I never neglect the functionality. Like all my other bags, this one too is pretty roomy with a safe space for my essentials.
Here's to a season full of fuzzy feelings. Less spooky and more spectacular fashion moments. And oh! Happy pumpkin picking.