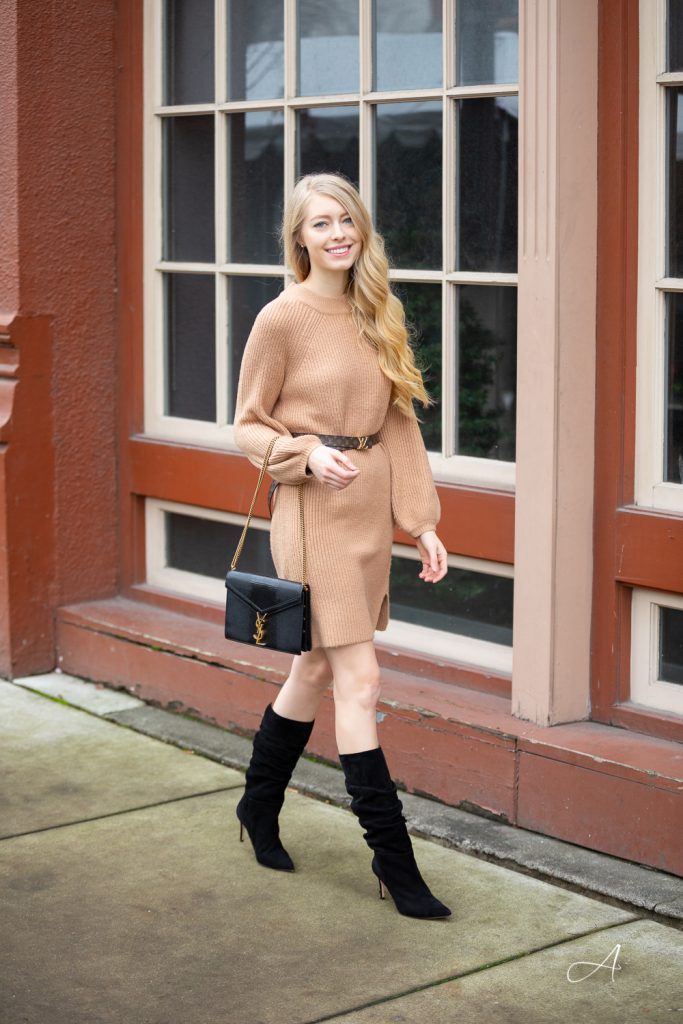 Sweaters are great, but you know what's even greater? Sweater dresses. There's something comforting and reassuring about having a one-piece wonder in your wardrobe for the busy winter days. Because we all know how time-consuming (sometimes frustrating) mixing and matching an outfit can be when you are on the go. Sweater dresses are the embodiment of 'no pants, no worries', and I will love them forever and always. Especially sweater dresses with boots.
They've been stealing the spotlight for quite some time, and I am OBSESSED with them. So naturally, my wardrobe saw sweater dresses more than anything this season. If you are wondering why so many? The answer is the same as to why we have so many jeans. The world of sweater dresses is versatile and wonderful. Some sweater dresses are ribbed knitted, while some are chunky turtlenecks. Some have a front slit to keep things interesting, while some almost reach the floor. Some are sleeveless, while some have cutout full sleeves. No matter the style, they all look gorgeous.
Among my many other proud sweater dress purchases, this tan colored one is my favorite. Bought from the brand Ann Taylor, it's a beautiful ribbed knitted dress with a round neck and long puffy sleeves. Even with the head-to-toe simplicity that it offers, this dress has the oomph to fit any mood or occasion. With minimal accessories, it's best for brunch. Add some statement earrings to the look and you're ready for a sophisticated night out. The fabric is super soft and cozy. Despite being oversized, it looks incredibly cute on its own. But I added a belt cinch in the waist for a more polished look. It also has small slits on either side which I also like.
Sweater dresses look as gorgeous with heels as they do with boots. For this look, I chose tall black suede boots with heels (the best of both worlds). Tall boots keep the legs warm and look absolutely classy. Suede gives off a very matte and sophisticated look enhancing the sweater dress' beauty. The black color also goes really well with the tan sweater dress.
I styled this cute look with Saint Laurent Cassandra Chain Bag. In other words, my latest obsession. It features an envelope-shaped flap highlighted with a stitched V line. The design is elegant and timeless complete with the iconic YSL logo crafted just below the flap. The bronze-metal double curb chain adds to the feminine touch, making it nothing short of a masterpiece. I have to say, this sweater dress with boots look turned out to be one of my top favorites this winter.
Sweater dresses with boots are the perfect pick-me-up and can easily be dressed up or down. Keep watching this space for more sweater dress outfit inspirations.