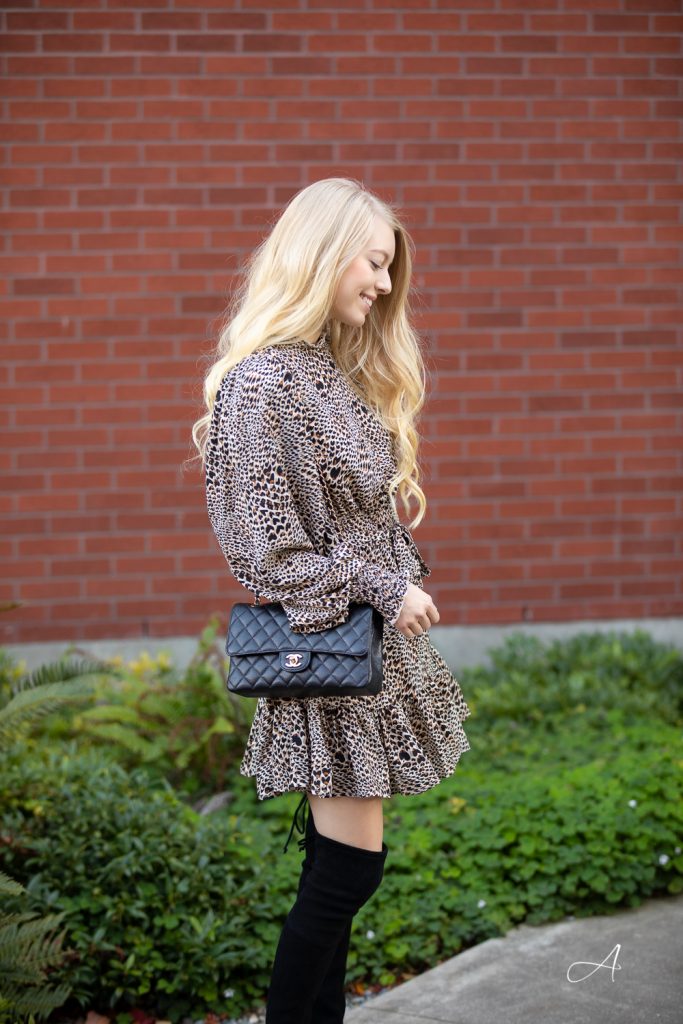 What's more fun than florals? Cheetah print!!
Show me a girl that didn't look good in cheetah print. No matter the occasion, a little cheetah print can take you from boring to bold. It's quite easy to fall prey to the same outfit formula day in and day out. The same old jeans and top combination simply because it makes getting ready hassle-free. But have you noticed the style becoming so redundant that even the mirror screams for change? That's where cheetah print comes in to switch things up.
This cheetah dress has a special place in my heart. Because if you look up close, the cheetah print is actually shaped like cute little hearts. Its playful print will bring out your wild side while still offering a sophisticated look. The long puff sleeves with broad cinched cuffs remind me of Victorian dresses and exude the same class. The ruffles at the hem are a cheerful addition to this gorgeous cheetah print mini dress. There's also a printed waist tie for a gathered look. It's an elegant day-to-night transition piece that's surely going to turn heads.  
You are missing out if you are not investing in some cheetah dresses. Now, there are hundreds of different styles – from spaghetti strapped midis to bodycon dresses, but my personal favorite would always be long sleeved cheetah dresses. There's something so charming about a long sleeved dress. You look incredibly polished without even trying. 
Contrary to what you might believe, styling a cheetah dress outfit is actually pretty easy. The dress itself will do most of the job for you. All you will need to do is choose footwear and accessories. I went for my Stuart Weitzman over-the-knee boots because if there is an equally glamorous contender against the cheetah print mini dress, it's the high knee boots. While they are not as versatile as heels, they are definitely more stylish and sexy. They also help keep your legs warm to balance wearing a shorter dress. To finish the look, I went with Chanel flap bag in black and voila! Another killer cheetah dress outfit added to my credits.
Let me in the comments below your thoughts about the outfits and your suggestions for future looks. See some more animal print looks HERE.