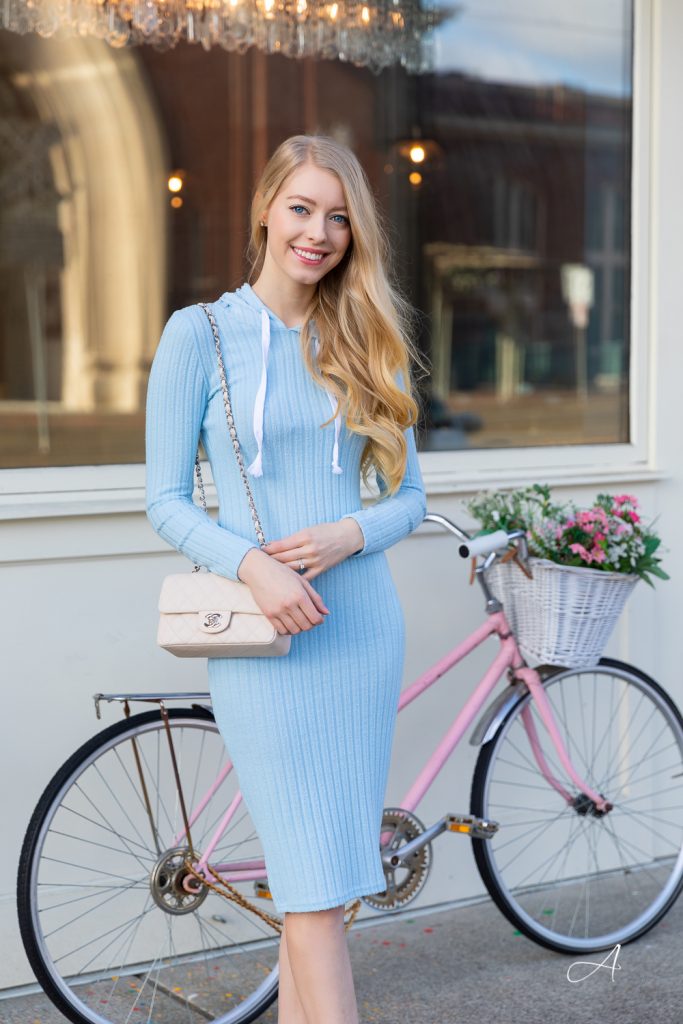 This past winter, I have been obsessed with sweater dresses. If you are a fan of no-fuss fashion, you would understand why. There are days when you just want to spend more time having fun and less time assembling an outfit. A sweater dress is an excellent option for one of those days. It's not only super easy to style but it also keeps you feeling cozy and looking cute. Now, winter has rolled into spring but my love for sweater dresses is still in full bloom. This time, however, I switched things up a little and got myself a hoodie dress from rue21.
It's like a sweater dress but with a drawstring hoodie. So you get an elegant look and a sporty vibe at the same time. And here's what I love about brands like rue21. You get to look like a million bucks without spending too much. There are so many affordable options with a head-turning appeal that I never get off the brand's website without checking out a dress or two. Did I mention a plus size version of the hoodie dress is also available with them?
Coming back to the hoodie dress – since I'm always inclined to pastels, I went with a refreshing light blue color. It's a soft brushed ribbed knit style that's wonderful against the skin and feels quite comfy for spring. While the midi length and long sleeves add an element of sophistication, there's a small slit in the back to spice things up. 
Now, this hoodie dress allows you to be both dressy and casual. I styled it both ways and loved the results. It's actually quite surprising how transforming different footwear options can be. For the first look, I went with a pair of sneakers from Golden Goose. This whole outfit turned out to be incredibly comfy and chic. If it's a day out that involves a lot of walking or if you simply want to feel at ease, this look would be perfect.
For the second look, I chose white heeled booties and you can see how they elevated the whole look. The heeled booties instantly transformed the hoodie dress from casual to dressy. You could easily carry it to a birthday party or a date night and look stunning. Both the looks were equally cute so I can't really decide which one I liked more. What I can decide, however, is that this hoodie dress is going to see me throughout the spring. Because it's modest yet stylish. Sophisticated yet sporty. And I adore its color. 
Do you like the hoodie dress with comfy sneakers or the booties? Let me know in the comments below.
If you want more styling inspiration, here's another one of my favorite sweater dresses.