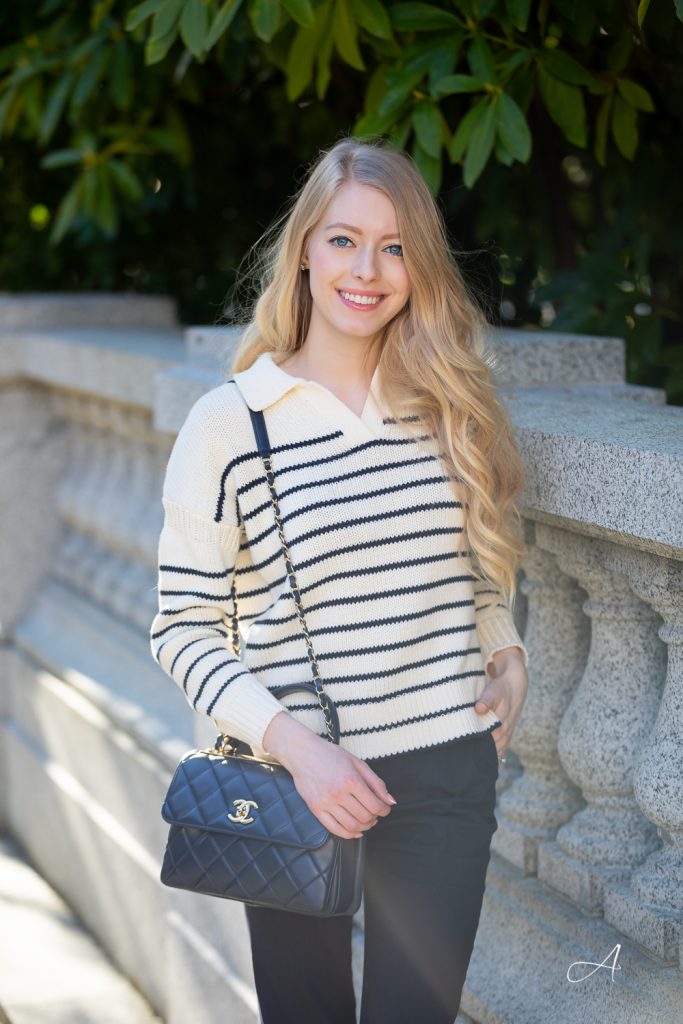 Stripes are always right. Especially on days when your wardrobe bores you out of your mind. Those sweet lines bring joy and playfulness to any look. And the best part is that they look great on everyone. I mean, what was the last time you wore stripes and didn't look amazing?
And while we are singing praises of stripes, it's also worth mentioning that you can easily use them to your advantage too. Vertical stripes are visibly slimming and lengthening. So if you want to look smarter and taller, they are your best friend. Similarly, horizontal stripes help broaden the area. A horizontally striped shirt will be great to balance your slight shoulders with generous hips. See why stripes are so perfect?
Whether they are vertical, horizontal, or diagonal, I love stripes. And to honor this wonderful pattern, I styled an equally wonderful Alex Mill striped sweater. It's a soft cotton knit sweater that's the perfect transitional piece for the changing weather. You know, days when it's chilly but not so chilly? The navy blue stripes against the white background give this pullover an elegant nautical style too. It's just the perfect thing to help me create a look that's casual and laid back but also well-put-together and CUTE. 
My favorite details of this striped sweater are the open collar and side slits for a comfortable fit. I'm a sucker for pieces that don't restrict movement and let you be your adventurous self. Now that spring is here and the lockdown situation is also getting better, we'd be going out a lot. Agreeable fits like this are what we'd all need. But if you prefer dark colors, don't give up on it just yet. This striped collar sweater is also available in reverse colors, i.e. white stripes against a navy blue background. 
The navy stripes warranted a matching pair of navy pants. These ankle-length pants stretch vertically and horizontally for stress-free comfort. What I love the most about these pants is the straight style that makes you look taller. The fabric is also soft and breathable so you don't feel stuck and suffocated. 
To add a polished look to this comfy casual outfit, I went with my Alexandre Birman Clarita Sandals. I absolutely adore the bow detailing on these white sandals and the soft Nappa leather material. They are not just my day heels, they look equally gorgeous with an evening dress too. The finishing touch to my nautical look is the Chanel Trendy bag in navy. The lambskin leather material is exquisite to touch and durable enough to endure years of use (with caution of course). I also like how spacious it is to hold all of my essentials. 
It was overall such a cozy and cute outfit that I'd love to repeat (maybe with jeans?). Let me know in the comments below what striped styles are your favorite. See some more sweater styled looks HERE.