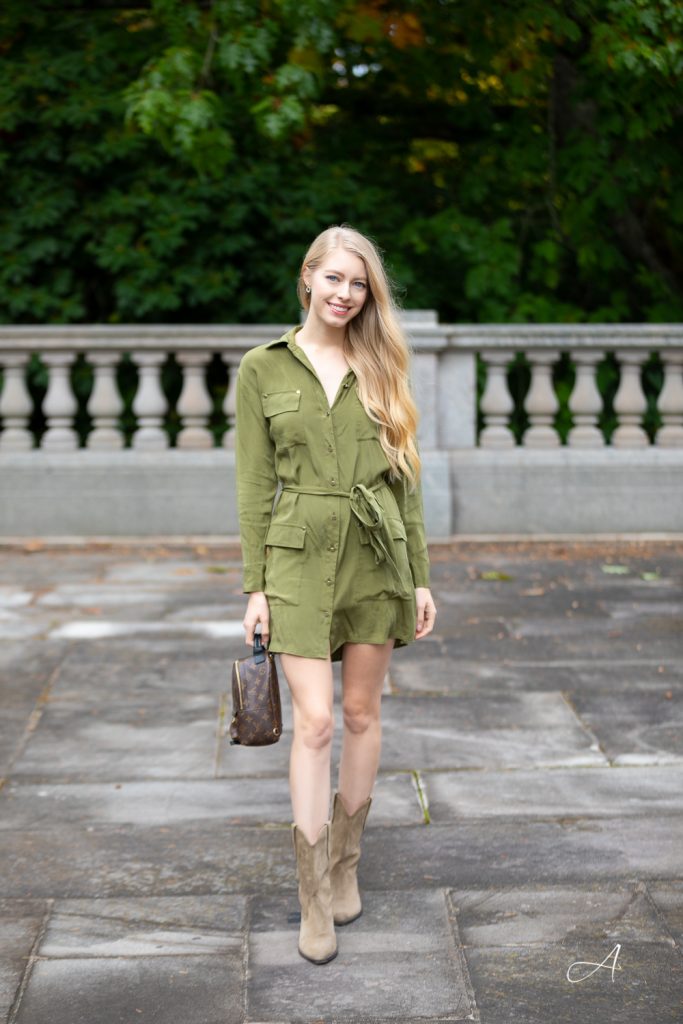 The moment leaves start turning golden, out come the fall colors. The joyful shades of yellows and oranges, the classic maroons, the dreamy blues, and the warm browns. The color palette is stunning and striking. The runways are a joy to watch. But one color that I feel is left under-appreciated and under-used is olive green. It's such a refreshing and calming color. Especially if you feel overwhelmed with deeper colors, olive green is a perfect choice. Did you know it also symbolizes peace and harmony? All the more reason to wear it. 
Olive green is one of my favorite colors for fall (these olive cargo pants have made it to my feed a number of times). So, this season, I had to upgrade my collection with more of this refreshing color. I have been gravitating towards button-down dresses for a while and this olive silk shirt dress from Intermix caught my eye right away. It's a beautiful silk button-down mini dress with a waist-tie for a cinched-in silhouette. The front flap pockets give you that signature safari vibe. The fabric feels super soft and comfy. My favorite thing about this dress is how effortlessly it can be styled. Button it up, pair it with boots and you're ready to go. An olive silk shirt dress is surprisingly versatile and I've worn it in the summer as well with nude colored sandals.
My choice of footwear was the Isabel Marant Duerto Boots. These are 100% suede boots with a leather lining so naturally, they're incredibly warm and cozy. The western-style paneling has that rodeo appeal that every country girl would love. The mid-calf height, pointed heel, and block heel further adds to this pair's pizzazz. This is, however, not my first purchase from the designer brand. Isabel Marant is a name that I have always trusted. You can spend your money with your eyes closed and know what you're getting is going to be amazing and last long. I also have these gorgeous Denvee Boots from Isabel Marant that I absolutely love. 
The LV Palm Springs mini backpack felt like the perfect piece to finish the look with. These little retro rucksacks first came out in the '90s and are now trending once again. The mini backpack is practical, durable, easy to carry, and totally statement-making. My favorite aspect is the versatility. You can either wear it cross-body by adjusting the straps or remove the straps and carry it by the top handle. I prefer the latter. It may look small but you'd be surprised how much you can fit inside it.  
Now that we are all going out more, I can't wait to share more winter outfits with you.