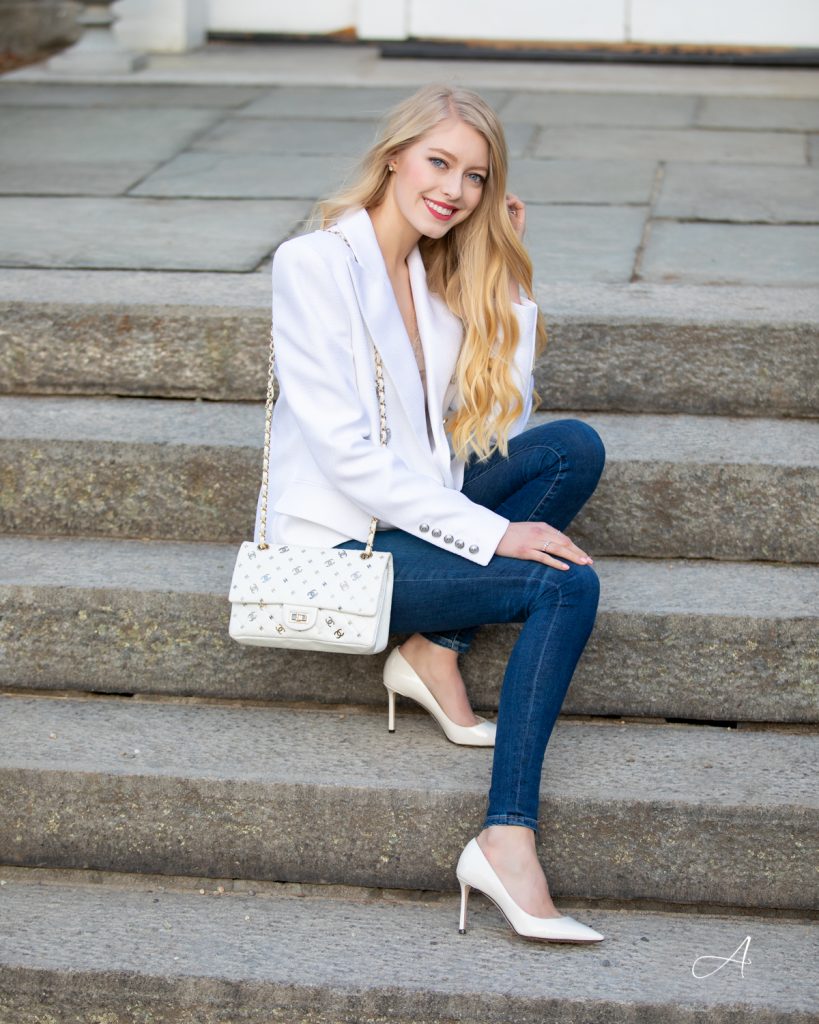 Summer for me translates to flowy and feminine sundresses and skirts that bring out my girly side. But some days you want casual summer style to take a backseat and put your boss mode on. And nothing screams 'boss' more than Balmain. This decadent double-breasted Balmain blazer caught my attention the moment I laid my eyes on it. I had been looking for something sleek and smart to spruce up my wardrobe. Something that strikes a perfect balance between stylish and sophisticated. Something that gives off a professional look and leaves a powerful impact. And I finally found a blazer that fits the bill.
Let's start with the color. Now, Balmain has a wide range of jackets and blazers that instantly give you that 'I mean business' look. From houndstooth to sequined, different styles are available in different colors. But I went for white because of the effortless elegance and softness it offers. The best part about white is that it can be dressed down or up with the right accessories. When I slipped this Balmain blazer on, I could feel it giving me that extra shot of confidence while smartening me up. The structured shoulder deliver a very formal and regal appearance. Whereas embossed silver-tone buttons on front and underside of sleeves add a special spark.
I paired it up with deep blue denim jeans to create a well-balanced and relaxed combination that still looks classy. The contrasting jeans allowed my Balmain blazer to shine brighter and steal the most spotlight. To complete the look, I stepped into a pair of gorgeous pumps that matched my blazer.
And lastly, how can we forget the lifelong companions of every woman – handbags. For mine, I chose the Chanel Punk Reissue Bag which honestly deserves a blog post of its own. This white beauty is a truly treasured piece in my wardrobe. The brushed gold-tone, silver-tone, and gunmetal CC logo at quilted cross-sections look wonderful. Its snap closure is easy to work with and chain-link and leather shoulder strap further adds to its beauty. Classy perfection would be an understatement to describe this bag.
So, this was my take on a semi-casual outfit with dressy elements. While the blazer highlighted my strength and confidence, the denim jeans embodied my laid-back friendly persona. I plan on creating more and more diverse outfit during the season for you to take inspirations from. Stay tuned for fun looks. If you're more of a jeans style kind of person and like looks like this, check out my other looks with jeans HERE.