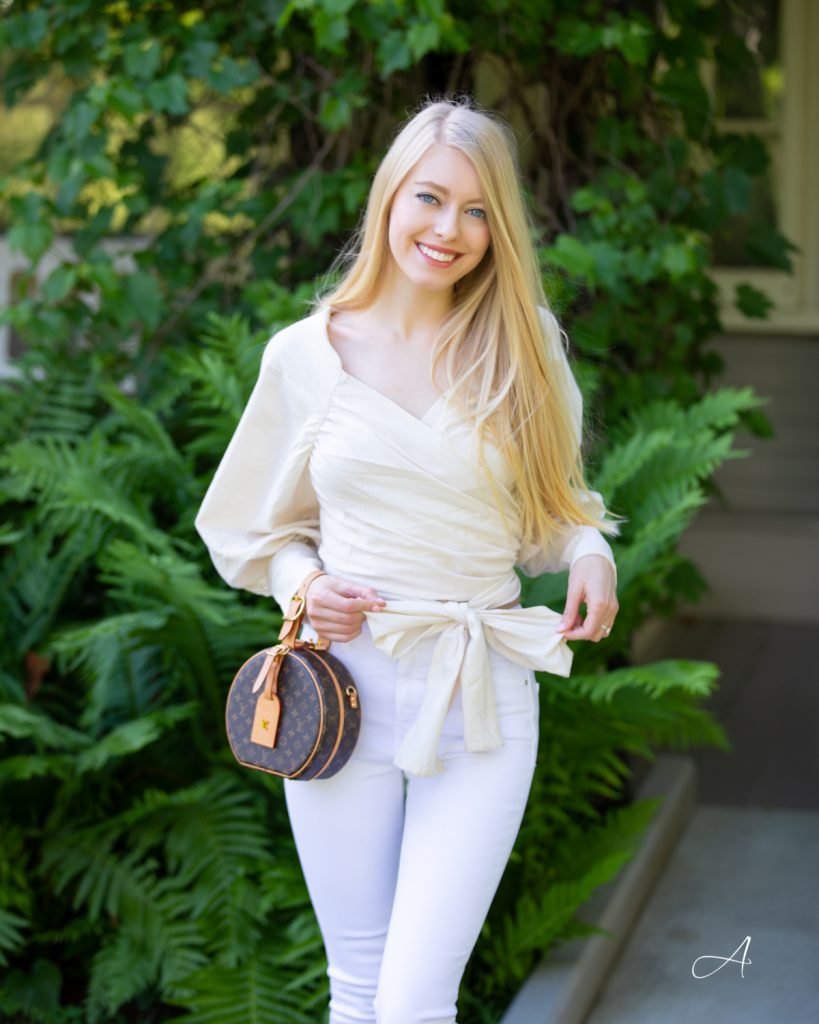 Monochromatic outfits have the reputation of being called effortlessly trendy and achingly chic. It's one thing that can never really go out of style. Plus, who wants to spend one good hour raiding the closet for a top that perfectly goes with that floral skirt (floral skirts have their days, no lies)? But monochromatic outfits are the easiest way to make a dramatic statement. And that is precisely the subject of today's post: my tone-on-tone outfit comprising of a wrap top with bow and white skinny pants.
Solid colors make about 80% of my wardrobe for obvious reasons. They make styling relatively easy and align perfectly with my personal style: classy and sophisticated. This wrap top ticked all the boxes for me. The soft tone had my attention. But it was its slightly ruched style and the adorable bow that made me get the top right away. While I go for classy, I also like my outfits to have a dash of playfulness that the bow deliciously added. The top's statement-worthy bishop sleeves with button detailing were another nod to my signature style and worth all my money.
I paired the wrap top with white skinny pants and my beige sandals to complete the look. The thing about monochromatic outfits is that they not only look great. But these streamlined ensembles also make you look smarter and taller. If you don't want to go for another color gradient or variation to mix and match, you can also play with different textures of the same tone.
The trick is not to let your monochromatic outfit turn out bland or boring. The best way to achieve that is to go for accessories that add an unexpected pop of color. My Louis Vuitton Boite Chapeau Bag did a great job of livening up my look and adding that eye-catching contrasting element. This incredibly smart hatbox bag features LV monogram coated canvas exterior with a removable strap and a single handle. I preferred carrying it without the long strap for a more formal touch.
To master the art of creating monochromatic outfits, shop my look below. And stay tuned as I conjure up more inspiration to make you want to up your style game.