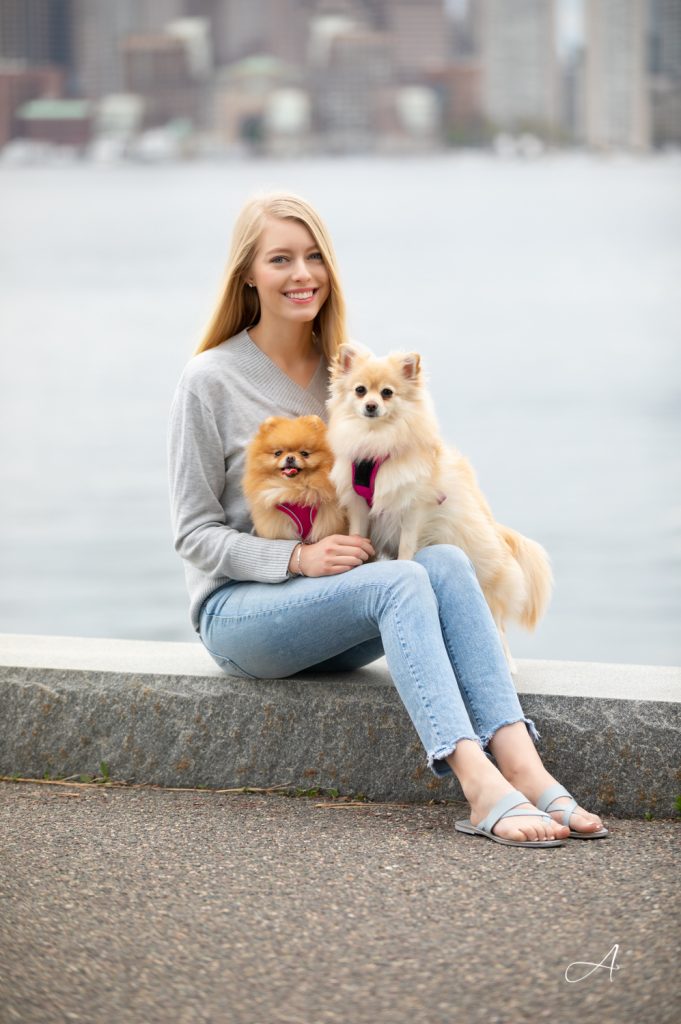 If someone asked me what makes me happy, walking my cute and cuddly dogs would be among the top answers (other than making welcome additions to my handbag collection, of course).
I have two Pomeranian dogs that I just can't stop gobbling up the cuteness of. The time I spend out walking them is hands down the best time of the day. Other than the obvious health benefits involved, dog walking also strengthens your bond with your little babies. And who doesn't want that?
Before moving to the Washington State, Massport Harborwalk Park was my favorite waterfront walkway to walk my little pooches and get a breath of fresh air. I often threw on something casual and braced myself for a wonderful evening. For this particular day, I chose casual city style and went back to basics with a grey sweater and light washed jeans. Now that I look at the pictures, my outfit perfectly matched the mood of the waterfront.
I got this soft and breathable grey sweater at the beginning of summer but it has since become my wardrobe staple. Particularly because it's super easy to style and goes well with so many different looks. The color is versatile, elegant, and perfect for the impending winter season. I can already picture it under a classic black coat paired with boots. Just another version of casual city style look I might be putting together for you guys, who knows?
These washed jeans proved to be the perfect partner for my grey sweater. For me, they're one of those clothing items I find myself reaching out for again and again. The stretchable material doesn't make me want to strip them off soon as I step out and the color is also my favorite. My casual city style look was complete with a pair of grey flats. No accessories. Just a laid back look for an evening rich with the simple beauty of nature.
On a side note: there's much more to Pomeranians than their adorable teddy bear appearance. They are super friendly, active, and playful. If you are looking to get a family dog, these sweet poms are your best bet. Stay tuned for more of my fall looks and adventures with my babies.
Check out another way of styling these jeans HERE