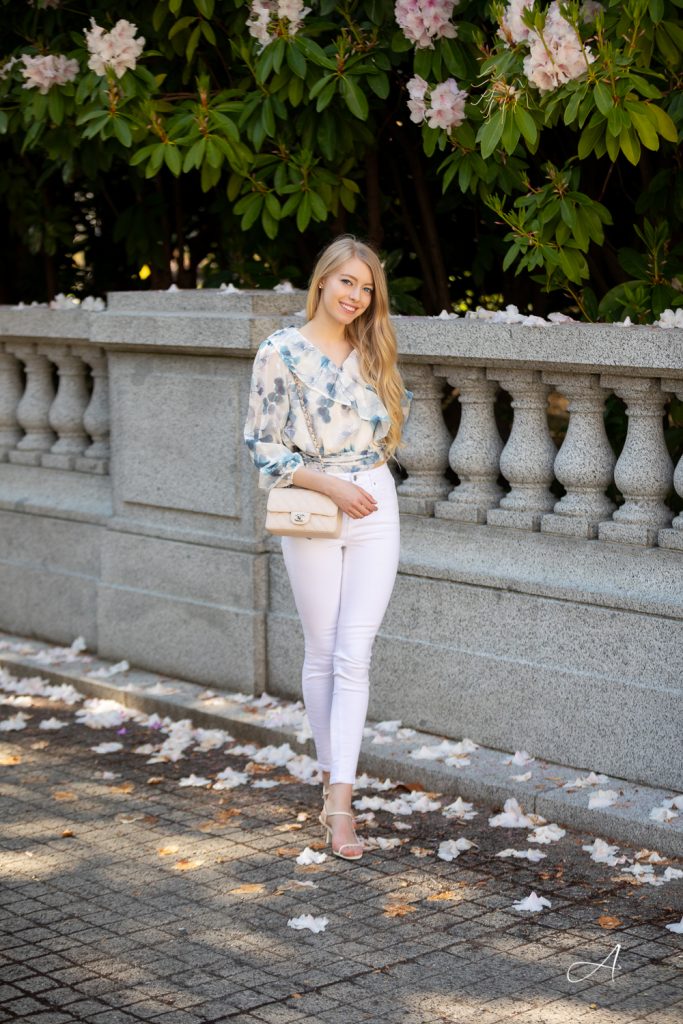 The sight of flowers makes everyone smile. Think tulip fields of the Netherlands or lavender fields of France. Who would possibly not feel happy surrounded by such vibrancy and warmth? When you can't go to the said flower fields, you can certainly bring the beauty to you in the form of floral prints. Your biggest cue? The weather. 
When the temperature rises, fresh and flamboyant florals are always a sight for sore eyes. Floral tops, floral dresses, floral skirts. Give me everything floral and I'll be happy as a clam. A beautiful addition to the floral section of my summer wardrobe is this floral top from Chicwish that I've styled today. 
I've got a thing for wrap tops if you haven't noticed. Not so long ago I styled a head-turning navy silk wrap top that collected so many compliments. Another bow wrap top has also been my bff through the warmer days. So when I saw my favorite style and my favorite pattern together in the same piece, I had to get it. 
This lovely wrap top features lavender and blue floral print. If you look closely, sometimes the lavender is dominant and other times the blue pops up. The print is incredibly tame and tasteful. It's subtle and subdued without overpowering your aesthetic. While I also do appreciate big and bold floral sometimes, I can relate much better to the soothing beauty of the soft ones. 
The floral top has a flowy design with a self-tie ribbon at the waist which is honestly super cute. The V neckline has ruffle trimming and the long sleeves have elastic cuffs for an elegant look. It also has this adorable eyelet detailing lending it a vintage lacey vibe. It's made out of semi-sheer fabric but it does come lined so you don't have to worry about wearing a cami. To make things a little extra comfy, there's a hidden side zip closure too. 
Since the top had soft colors, I had to pair it with white pants to create that 'soft girl aesthetic'. Slipped into a pair of white heels and finished the whole look with the beige Chanel flap bag. And there I had it. A refreshing outfit to liven up the day.
Floral prints in summers are always nice. What colors do you like your florals in?