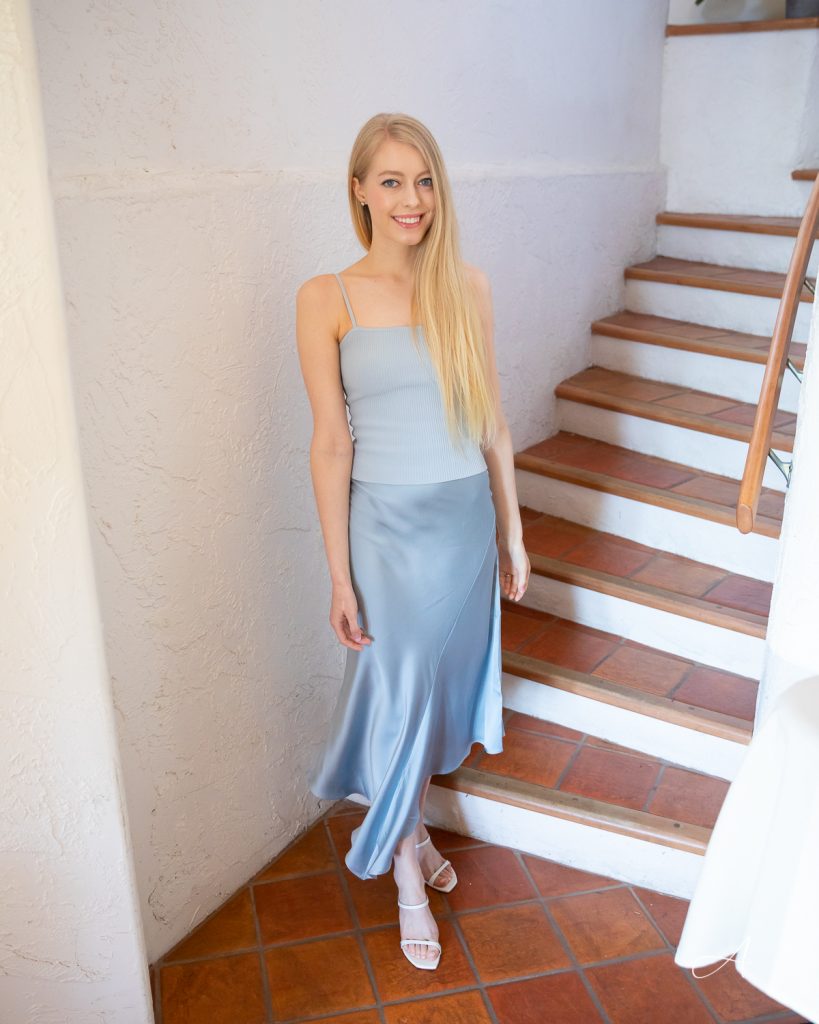 Fall is my favorite season and I'm pretty sure everyone else's too. The season when the world turns the prettiest shade of gold and the coffee tastes nicer than the usual. 
Fall brings the most elegant outfit choices too and nobody can deny that. Miniskirts and shorts crawl to the back of the closet as classic cool-toned silks, plaids, and linens start making an appearance. In this wonderful interim between winter and summer, sleeker materials like light silks and knit tops are the route to take.
I'm known to whip out my silks the instant fall comes knocking and this season won't be any different. This luminescent powder blue skirt slip skirt from Anine Bing is perfect for a casual day out with friends, meeting the kids' teachers, or even a relaxed dinner date. The asymmetrical cut takes away the formality generally associated with skirts for a suave off-the-job Hollywood celebrity look. It screams that you're down to party and not afraid of having some fun. 
The skirt is fitted around the waist but flares beautifully down the legs. I paired it with the Alaska Sculpt Knit spaghetti strap tank from Aritzia to create an outfit of beautiful ice blues perfect for the weather. (Nope, I wasn't trying to look like Elsa). The fitted knit tank balances the flare and looseness of the skirt.  
The top and silk slip skirt both wrap around the curves elegantly and fit in well with the smart-chic vibe I was aiming for. While this look is more suave and unassuming, a pair of statement earrings unlike the small ones I'm wearing and higher heels make this the perfect fit for a party or a night out. 
For this outfit, I chose a pair of white, simple, slightly squared heels because that's the best color that goes with ice blue. The delicate straps also do perfect justice to the elegance of this outfit. This look can get you through the colder months too. Just throw on a jacket or swap the tank top with a cozy turtleneck and you're set. 
Now all that's left to do is sashay into the party while looking like the off-duty celebrity that we all should always feel like!