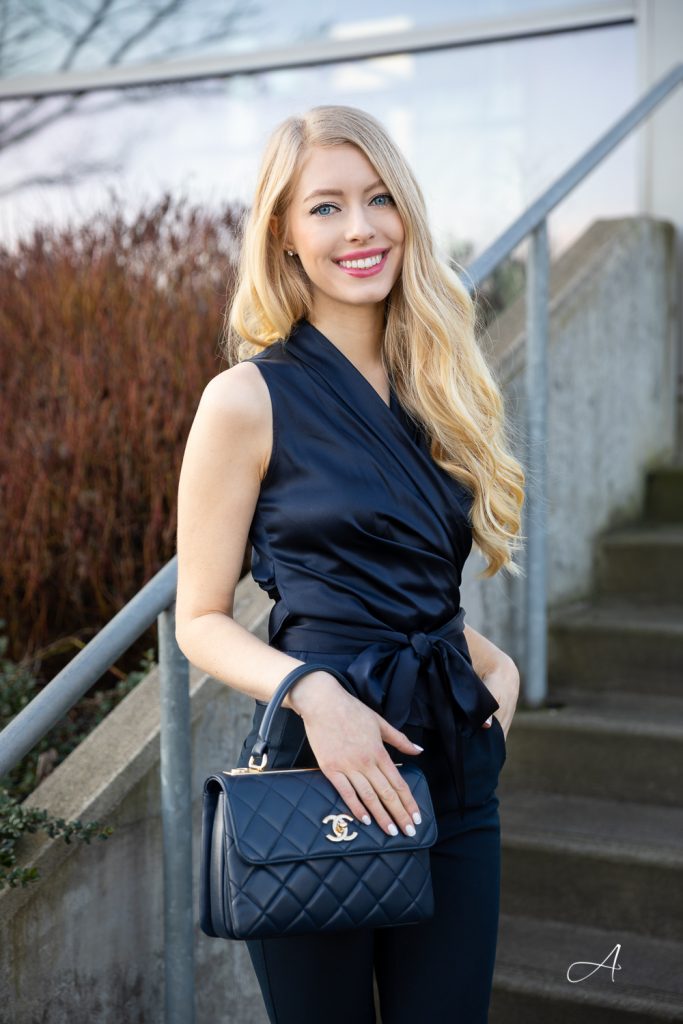 Silk has been a loved and coveted fabric for many generations and it has quickly been one that I gravitate towards. A mini, a midi, a wrap or a slip, no matter the silhouette, silk dresses have become the new style staple. There's just something about silk that makes you look 10x classier and well-put-together. It radiates sensuality and turns you into a modern-day femme-fatale in an instant. I love silk dresses and blouses for their day-to-night flexibility and an effortlessly chic look. This navy silk wrap top from Lilysilk is among my treasured collection of silk pieces.
Lilysilk touts an incredibly versatile range of silk dresses and blouses. I often turn to the brand for all my silk needs and have never been disappointed once. The silk wrap top is my newest purchase from them and I am in LOVE. The color itself is supremely royal and the wrap style elevates the look perfectly. The fabric is super soft, and the fit just right. The blouse feels surprisingly weightless and falls on the skin like a feather. It's elegant and exquisite, but above all, it's amazingly versatile. You could style it with a pretty floral skirt for a romantic look or a pair of skinny jeans for a work look. Just tie the belt in a perfect bow and you're all set for a wonderful evening (or morning, or night).
I personally love the sleeveless silhouette, but you could throw on a blazer or a coat to keep warm on the chillier days or achieve a killer business look. I choose to pair it with skinny jeans and complete the look with the matching Chanel bag. 
Once a fabric reserved for the royals, silk is now a favorite of celebrities and street-style mavens. It's lustrous and luxurious enough to make anyone feel like a supermodel. The trick is in the styling. If you plan on getting yourself some silk pieces (as you should), I would recommend Lilysilk in a heartbeat. I have been a loyal customer for quite a long while and always have had a pleasant experience. The dresses are always high quality and true to size. Their fast shipping is a lifesaver for last-minute special-occasion purchases. They also carry silk shirts, lingerie, sleepwear, and bedding for those of you who want to swathe in luxury even after the day has ended. Someday I might even do a detailed Lilysilk review, including all their products that I have. 
Let me know in the comments below how you like your silk.