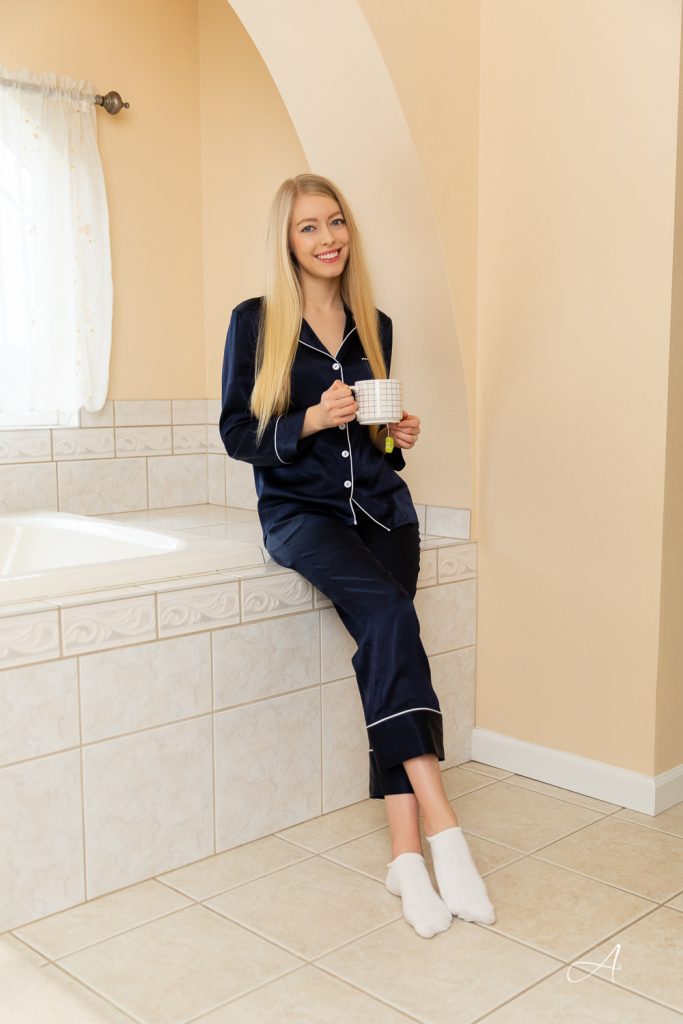 Whether you work full-time or lead a busy life as a stay-at-home super mom, all every one of us wants to do at the end of the day is to slip into a comfy and cozy pajama set. Ever since the pandemic, we've been spending more time at home anyway. Which means more time in pajamas. We're working in them, cooking in them, and lounging in them before finally sleeping in them. If you are going to be in them for the better part of your day, why not hop on over to the glamorous side and go for a silk pajama set? 
I have been wanting to upgrade my pajama selection with something that feels luxurious yet incredibly comfortable. That's when I happened upon Mommesilk and their silk sleepwear. From shorts and chemises to gowns and pajama sets, they have a dreamy selection of sleepwear. Since I wanted a relaxed and breezy fit, I got their At Home Silk Pajama Set and I promise you they are the best pajamas I own. This navy matching set is made out of 100% mulberry silk which is probably my most favorite feature. I have always preferred natural materials not only because they're environmental-friendly and durable but also because they're softer and more absorbent. Higher absorbency means they're comfortable even in summers. Besides, silk has thermoregulatory properties that help you maintain a pleasant body temperature. 
The second thing that I love about this silk pajama set is its boyfriend fit. No one wants to feel restricted in their sleepwear. In addition to being sumptuous and soft to touch, this matching set is also super breathable and comfortable. But Mommesilk made sure they didn't have to sacrifice style over comfort. With a classic notched collar, mother of pearl buttons, and elegant white piping, the set is as stylish as it's comfy. There are also front and side pockets for added functionality. You might be tempted to use it as daywear, so it's always great to have a couple of pockets for essentials. 
The set is high quality mulberry silk so it's best to be careful while washing it. The brand recommends professional dry cleaning but it's also washable at home. Just remember to wash by hand or delicate, using natural detergents and at a low temperature. If you want it to last long, don't wash it too often because silk usually stays fresh much longer than other fabrics. I also like to use a mesh bag as an extra layer of protection when washing in the machine. 
What you wear actively affects how you feel. You may choose an old t-shirt and rugged sweatpants for lounging and sleeping in. But if you're also working in them and doing other stuff around the house, they will eventually start making you feel lazy and unkempt. Wear something fresh and you will instantly feel fresher. 
Share with me in the comments below your favorite silk pajama sets and your experience with Mommesilk. Here's to a comfy summer ahead with comfier nights.